When I was pregnant with my first baby, I was overly excited to shop for the stuff I thought she would need. I think most would-be parents are like that. The urge to buy almost everything everyone says you'll need is just too much to resist. However, based on my experience, first time parents, grandparents, and would-be godparents should really fight the temptation for their own sake. Why? Because a lot of baby products – especially baby clothing – either have extremely limited lifespan or they are completely unnecessary. If it's your first time to have a baby in the family and you are planning to buy tons of baby clothing, hold your horses and read the following tips on how to shop clothes for your newborn baby – the smart way.
Consider ignoring designer newborn baby clothes
Designers know how to make the cutest baby clothes that you will find hard to resist – but, as I've said earlier, you need to resist. This is because all those mini versions of your grown up outfits will just go to waste since your baby is bound to grow super fast and she'll just sleep – A LOT.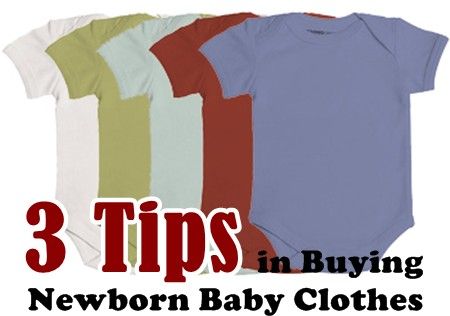 If you plan on buying tiny grown-up clothes just to show off how cute your baby is, keep in mind that you can't really show off your newborn baby a lot because she's not supposed to spend a lot of time outdoors. She's not supposed to be exposed to all types of hazards, dirt, disease-causing germs and virus, and more. Now, if you're stubborn or if you're baby has considerably grown (like when she's a year old or two and she can keep a shirt size for at least six months), consider getting designer clothes at a discount. Buy during a sale, or get coupons so you can get designer clothes and fab baby toys and other stuff at a heavily discounted price.
Prioritize comfort not cuteness
Frankly, it doesn't matter if you buy cute clothes for your newborn baby. She is bound to look cute regardless of the kind of baby clothing she'd wear. So, instead of worrying about how cute your baby would look in their dress, try to focus on what's more important – how comfortable your baby will be in her clothes.
Make sure your baby is wearing something hypoallergenic and soft especially when she's asleep (Newborns need roughly 18 hours of sleep everyday!). Make sure what she wears matches the weather so her outfit would keep her warm or cool, whatever is appropriate. Invest in comfortable pajamas, onesies, cotton shirts, and coveralls. No matter how cute a costume or an outfit is, it is not for the delicate skin of your baby if it is made of rough or tight-fitting fabrics.
Invest in simple staples
So what will your newborn baby need? What exactly should go to your little baby wardrobe? Well, in the first few weeks, your little angel would basically need vests, bodysuits, and onesies. These are the top baby fashion staples. To begin with, you will need six of each – and no, these simple baby clothing aren't expensive. Moreover, your kid would probably wear these for at least three months.
When buying these baby clothing staples, make sure that there are poppers everywhere – especially at the crotch area. Such will allow easy diaper change especially while your newborn is sleeping.
Also, don't feel bad if you're not getting fancy clothes for baby – remember, you will probably get a lot of baby clothes as gifts – some handed down, some brand new – and most will probably cute outfits and suits.
The following two tabs change content below.
LN
Ellen is a blogger, a web content writer, a researcher, a stalker, an entrepreneur wanna-be, a resourceful moneymaker, a big fan of Supernatural TV shows, a household queen, and a mom of four.