Bedroom furniture comes in all shapes and sizes, and knowing what to choose can be a challenge as you want the room to look fantastic. Not only do the items that you choose need to look brilliant, but they also need to serve a purpose. Alongside wardrobes, and chest of drawers, you may also want a bedside table.
This piece of furniture is perfect for storing items that you may need through the night, and is also excellent for holding tamps. A bedside table is a very traditional piece of furniture, and there are several different styles to choose. Whether you want a traditional style, or a more modern alternative, there are options for everyone.
Stuff to Consider When Choosing a Bedside Table
Size and Style
You need to consider the size of your bedroom, and whether you want one or two bedside tables in the room. Some people purchase a pair, and others like to have a stylish single table for one side of the bed. Regardless of how many you choose, they need to complement the other furniture in the room and enhance the overall appearance.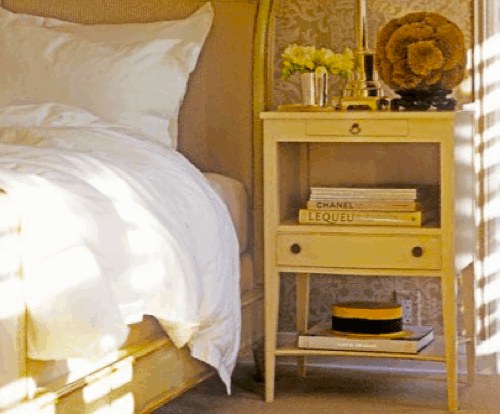 *photo from the web
Matching bedside tables can provide your bedroom with a sophisticated and smart boutique hotel appearance. However, this may not be a look that you want to achieve, which is why there are many different options to choose. You need to think about the other furniture, and how functional you need the bedside table to be in the room.
If the space is limited in the room, you may want to have one bedside table, which is a unique feature. You need to ensure that there is enough room to move comfortably around the room, and not have a table that is too large. There are round tables, square and rectangle options all of which will look amazing in any room.
Storage Options
There are bedside tables that have multiple drawers, and others that have shelves for storing books and magazines to read. You may prefer the drawer option so that you can hide the different items, and ensure that your bedroom remains clutter free. The style that you choose is often due to personal choice, and there are no rules when it comes to choosing furniture.
Detailing and Designs
Material, cost, size and style should be considered, but these are everyday decisions that you need to make. The detailing on the bedside table will need to be thought about, and for some people this can be a tough decision. You may prefer a traditional style with brass handles, and period detailing, or a sleek and contemporary appearance.
Some people like to make a bold statement in the bedroom, which is why there are many alternative furniture manufacturers. You can choose a bold design such as polished metal or high gloss wood, both of which will look incredible, and produce a distinct appearance. Whether you want to have the tables blending into the room, or standing alone they will look fantastic.
The following two tabs change content below.
LN
Ellen is a blogger, a web content writer, a researcher, a stalker, an entrepreneur wanna-be, a resourceful moneymaker, a big fan of Supernatural TV shows, a household queen, and a mom of four.