After we sold the Honda Jazz 2009 GE, we decided to go for a sedan again and we got a Honda Civic 2007 1.8S, with manual transmission. This car has an advanced VTEC engine which produces 140 bhp (104 kW; 142 PS) at 6300 rpm so it really has power and it poses a temptation for my husband to practice his GTA-like driving skills. Hubby also told me that among all the cars we had, he enjoyed driving this one for the farthest and longest drive we had (approximately 250kms).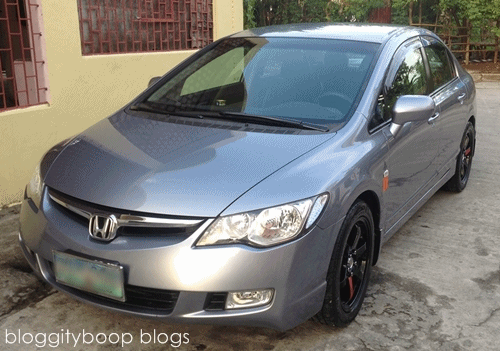 Anyhow, the Honda Civic 1.8S is the mid level in the 3 Grades of 2007 Honda Civic in the country. The entry level is the 1.8V and the top of the line is the 2.0 S (2.0 engine).  The 1.8S and the 1.8V has the same engine but the 1.8S has Optitron , ABS and EBD, dual airbags, blue interior (the 1.8V has grey), body colored mudguards (the 1.8 V has black plastic mudguards), and 16 inch alloy, 5-spoke wheels, (1.8V has 15 inch wheels). However, the car we got already had the seats upgraded and covered with leather.
What's really nice about the Honda Civic 2007 is that it is spacious. It has plenty of leg room and comfy front and back seats. Sadly, it doesn't have as many cupholders as the jazz but it does offer a lot of compartments. It has a big center compartment, wide door pockets and a big glove box too. As for the design,what caught my eye is  the Honda Civic 2007's futuristic looking speedometer. The instrumental gauge has two tiers – one for the speedometer and the other for the tachometer. The fonts on the display are big and it kind of reminds me of a small movie spaceship. LOL. The blue light on the dashboard also makes the whole front look modern. On the outside, the Honda Civic 2007 looks sexy and sci-fi-ish – though the latest model looks more Transformer-like. It has a steep windshield and the headlights look sleek but sculptured.
The Honda Civic 2007 1.8S FD is really a good car if you want both style and power driving. It will do well as a family car (if you have a small family) and a business car. It's not as fuel efficient as the 1.3 Honda Jazz or the 1.3 Toyota Vios but it's still quite economical at 10-12 kph.
The following two tabs change content below.
LN
Ellen is a blogger, a web content writer, a researcher, a stalker, an entrepreneur wanna-be, a resourceful moneymaker, a big fan of Supernatural TV shows, a household queen, and a mom of four.