Driving is a burden in many places. However, there are some cities that are far worse to drive in than others. Below are five of the craziest cities in the world to drive:
Rome, Italy
Rome, Italy is a city that is at the top of many people's vacation list. However, driving in this city can be quite hazardous. Most of the drivers in this city do not use rear view mirrors, and they are not required to wear seatbelts. Drivers also have a tendency to drive very close together. As a result of all this, several car accidents occur each day, and the driver fatality rate is very high. You would be better off calling a cab or taking public transportation if you are visiting this city.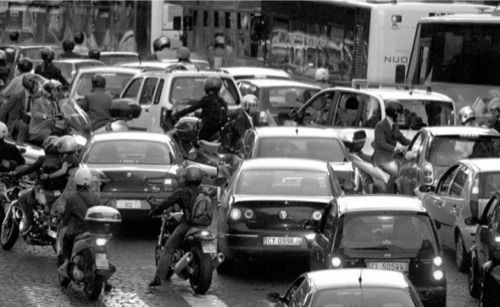 Mumbai, Italy
The way that some people drive in Mumbai, Italy will make you question whether they really went to driving school. Not only do many drivers in this city ignore driving rules, but the some of the roads are poorly maintained. Additionally, some people in this city do not have any problem lying down and taking a nap on the roadside.
Athens, Greece
Athens, Greece is another place that many people dream about visiting, but they would probably not want to drive in this city. Drivers seem to be oblivious to all the driving rules, which is one of the many reasons that Athens is a very dangerous place to drive. Even if this city was not a dangerous place to drive, driving would still be inconvenient. People have trouble finding a place to park because space is limited. Jay walking is a crime in a many cities, but pedestrians do not seem to care about that in Athens.
Ulaanbaatar, Mongolia
This city has a population of over one million. Like most other densely populated cities, driving is a burden in Ulaanbaatar. Many of the roads in this city are unpaved. The ones that are paved are poorly maintained. Additionally, it is estimated that only a small percentage of the population wears seat belts.
The extreme weather changes in this city do not make driving any easier. The temperature can rise above 40 degrees Fahrenheit in the summer time, and it can drop to 0 degrees Fahrenheit during the winter.
Beijing, China
There are over three million drivers in Beijing, so traffic congestion is a major problem in this city. In fact, there was a traffic jam that lasted for two weeks in this city one year. Furthermore, many of the drivers ignore the basic rules of driving, such as stopping at a stop sign.
The following two tabs change content below.
LN
Ellen is a blogger, a web content writer, a researcher, a stalker, an entrepreneur wanna-be, a resourceful moneymaker, a big fan of Supernatural TV shows, a household queen, and a mom of four.