MY APPS MALL answers the prayers of non-Android and non-Apple mobile phone owners who want free mobile apps on their phones. If your phone doesn't run on Apple's mobile OS or on Android but you want apps on it, you no longer have to dream on with your Java, or Symbian phone because MY APPS MALL gives you access to thousands of mobile applications and games.
MyAppsMall from Globe lets you search and download mobile apps most FOR FREE – but a few of them have to be purchased. You can access the site via your mobile browser through m.apps.globe.com.ph or using your pc. To get FREE PHONE APPLICATIONS for Java, Symbian, Blackberry, Windows Mobile, and other non-android and non-iOS phones (they also offer Android apps though) you just have to sign-up  – or free. Once you register, you even get FREE P10 worth of Globe instant load (Limited to first 20,000 new users who text in successfully), a free @myappsmall.com email, and you also get the chance to win 1 of 100 ANDROID PHONES in the weekly draw and 1 of 3 Honda Scoopy Motorcycles or a brand new Chery QQ CAR in the grand draw of the Superstar Challenge (more about that challenge later). MyAppsMall can be availed by all mobile postpaid and prepaid customers.
I registered my husband's phone and browsed the website to check out the apps available. I found these apps a must-have on a blogger's mobile phone these days (and perhaps even for non-bloggers). If you use Rackspace.com cloud computing on your mobile or smart phone you can easily utilize these apps.
GOOGLE MAPS –  regardless of whether you have a car or you're a commuter, Google Maps is an essential app that would help you find your way around the metro when you're attending events or just wandering.  Packed with the Google Latitude feature, you not only get directions and access to business listings, this Google Maps app also lets you post status messages and share your locations to your friends and followers (and you can see their statuses too).
YAHOO NEWS – You can't really blog about anything unless you know something and Yahoo News! offers a lot of things that you should know about.  It gives you access to the latest local and international news plus updates on the business, entertainment, and sports industry.
MINI NOTEPAD – I love notepads and I think everyone should too. With it you can make a draft for your next blog post, you can make your to-do list so you won't forget anything, you can store quotes which inspire you, or you can simply jot down your fancy ideas and plans whenever you want.
COLLINS DICTIONARY– We need it. Even the best writers need it. When we run out of things to say or we're stuck with the lack of synonyms when writing about the same thing over and over again, a handy dictionary would be of great help.
COMEKS FUN PHOTO BLOGGER – Every blog needs interesting images and this app could help you with that. Comeks lets you take pictures and modify them to create comic style graphics that you can directly share in Facebook, Bebo, Tumblr, Twitter or Flickror send directly to your friends phone. Cool right?
They also have apps for Facebook, Opera Mobile Web, Wikipedia, and thousands of games!
Now for My Apps Mall SuperStar Challenge – Globe will be raffling off  10 Android phones will be given away each week for 10 weeks, and on the grand draw,  they'll be giving away three Honda Motorcycles and one a Brand New CAR. You can get raffle entries by doing any of the following…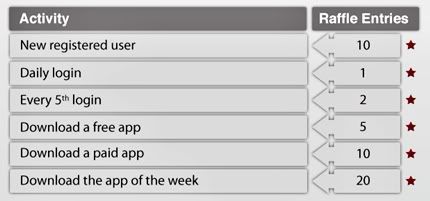 so what are you waiting for? Visit MY APPS MALL now and download your way to reinventing your phone and perhaps getting a brand new scooter or a brand new car soon!
This is my official entry to the Globe-YugaTech My Apps Mall Contest
The following two tabs change content below.
LN
Ellen is a blogger, a web content writer, a researcher, a stalker, an entrepreneur wanna-be, a resourceful moneymaker, a big fan of Supernatural TV shows, a household queen, and a mom of four.