Finally, I have found the package that I have been waiting for – FOR SO LONG!
The Big Box of Joy came from our Summer Santa – Sis Joy Mendiola of Occassions of Joy. She sent it last May through Philpost services – yes, MAY. However, much to our dismay, the package didn't arrive on its expected schedule. While it would normally and supposedly only take two weeks – at the most – for a local package to arrive via Philpost, our big box was still nowhere to be found a month after.
Puzzled, we (me and Sis Joy) started looking for it. I checked the email I sent her and I realized that I had mistakenly put "Lot 3" instead of "Lot 2" in my address (but that isn't really much of an issue because our neighbors know me). So, I started bugging our neighbor – our landlord actually, asking her if they received a postal notice or a package the whole month of May. They said that they didn't received anything.
And so, I went to the Caloocan City Post Office come June. I inquired if there were any packages sent to my name or to our neighbor's address. They said that there was none. I described my package and gave them further details. I told them that it was a small box and that it contained toys and the package number was DAP 33. They claimed they never got a box since April and that DAP33 is not a package number. Just to be sure, they told me to ask the mailman who was assigned to our area. I did and he told me that no such package arrived for me and that I should check with the Novaliches Post Office because if the package was big, then it would probably be sent via the Nova P.O. and not straight to their small office.
And so, I did go to the Nova P.O. I told them that the Caloocan City P.O. told me to look for my package there. Much to my dismay, the staff from that branch told me that I SHOULD NOT be looking for my package in their post office because they only get Caloocan-directed packages made via international transactions.
And so, I again went back to the Caloocan City P.O.and I again talked to one of the officers (the head of the mailmen) and he told me that what his staff told us earlier – was wrong. I got angry and I wanted to scold the mailman but he was no longer there. The officer noted  that since my package is of a local transaction, then it would be delivered straight to their office and I would get a postal notice. He also told me that I should check with Sis Joy if the package was really sent. I told him that OF COURSE, IT WAS! Would I be bothering myself to look for it if I wasn't sure? He apologized and he told me to ask Sis Joy for the actual package number and the date when it was sent (May 2).
Sis Joy had to go back to the Mandaluyong Post Office to ask for the details. She also sent me pictures of the package and the receipt and the package number was really just DAP33. After two weeks, I went back to the Caloocan City P.O. with the pictures. The mailman I talked to before was still not there and the women from the Parcel Department told me that my package was still not there. She told me to WAIT. If it won't arrive by come July, then I should request for a trace from the Mandaluyong Post Office.
I didn't want to bother Sis Joy anymore because I know everything has been too much of a hassle for her. So, I decided to do the waiting for two weeks more. Come my birthday – Yes, on the day of my 26th birthday – July 13, the postal notice finally arrived! And guess what, my package was really NOT in the Caloocan City P.O.. I had to pick it up from the Nova P.O.!
The day after, I went there with hubby and I asked for an explanation as to why my LOCAL transaction parcel landed in their office and why did they tell me that it was impossible for their office to get my package. They apologetically explained that such parcels should really be sent to  the Caloocan City branch but APPARENTLY, there was a mix up and one of their personnel –  from the Mandaluyong or their own office – mistakenly labelled my package as from an international sender. Despite their excuse, I still asked why it took SOO LONG for them to deliver  this package to me considering that my other international packages usually arrive a month after they were mailed to me. That they cannot answer but they did say sorry.
Now, as for the package, my daughters were really delighted with what was inside the box. My kids got three plush teddy bears (which looked pretty much like Mr. Bean's Teddy) plus three storybooks and two Baby magazines.Here's my eldest trying to keep the bears all to herself (lucky her, the twins were still asleep when this picture was taken).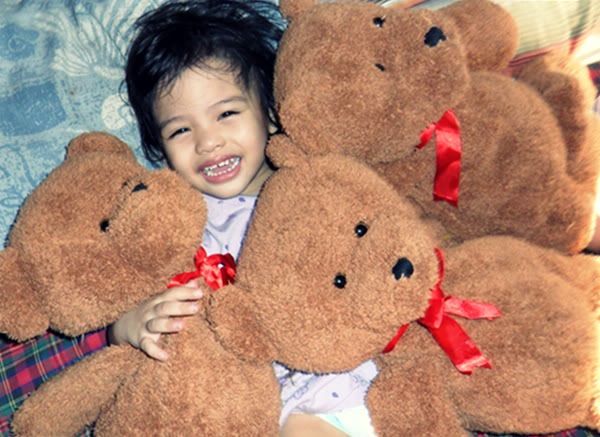 Here are the books and the magazines…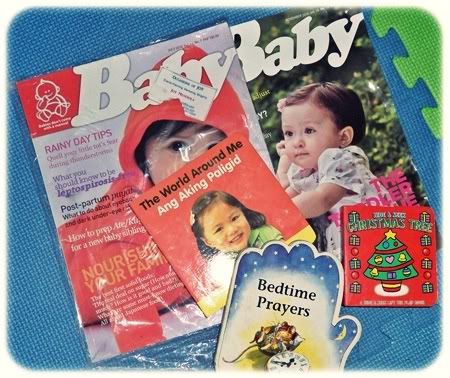 Thank you so so much Sis Joy – not only for the gifts but for bearing all the P.O. hassles with me 😀
For those who would want to get blessings from her – through her gift giving or through her the contests she holds, do subscribe to her blog via email,or through Google Friend Connect.
The following two tabs change content below.
LN
Ellen is a blogger, a web content writer, a researcher, a stalker, an entrepreneur wanna-be, a resourceful moneymaker, a big fan of Supernatural TV shows, a household queen, and a mom of four.