It's already late for a birthday giveaway and even for a blogversary giveaway BUT it is never late for a THANK YOU giveaway for all of you who have been reading my blogs, commenting, and linking to my posts. I would like to thank everyone who has inspired me to blog and to keep on blogging, and as such, I'm having this humble giveaway – the ILQ (I Like Qwerty) Giveaway.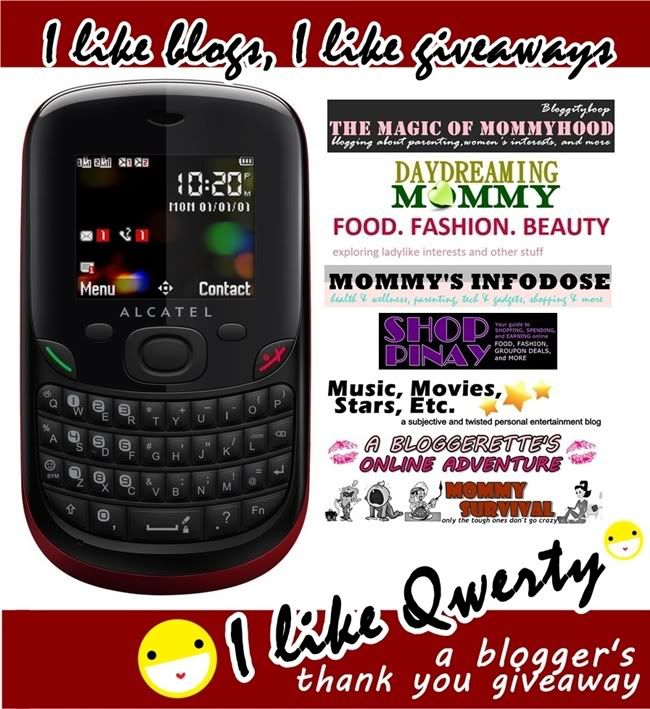 I am giving away a brand new Alcatel One Touch 355D to one lucky follower of my blogs. The Alcatel OT 355D is a candy bar phone with a convenient QWERTY keyboard. It's also a dual-standby, dual-sim phone and it comes with a color display, a VGA camera, FM radio features, threaded messaging capability, Email connectivity, MP3 playback for ringtone feature, and a fake call option. I find it very appealing, handy and convenient to use especially to most of us who are still so into texting. Believe me, I have researched far and wide for a cute, reliable, and feature-filled mobile phone that would match my wallet's "capabilities" and the needs of most mobile phone users. This is the best so far. I have also browsed for reviews on this product and I did find many positive feedbacks.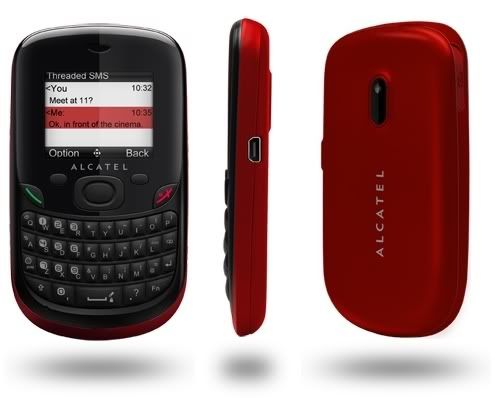 Now, without further ado, let me tell you how you can get a chance to win this cute QWERTY phone – completely FREE of charge. I don't want to complicate things and that is why I am making it very easy for everyone to join in.
You can get a chance to win this QWERTY baby (and some other surprise prizes) ONLY if you do these REQUIRED TASKS:
STEP 1. Post this message as your FB Status (Your post would be valid only if you TAG the fan pages of ALL MY BLOGS mentioned). Note that only ONE FB STATUS POST is needed for the entire giveaway period. You can post everyday but that will not earn you extra entries in the raffle (but I would appreciate all the help in promoting this giveaway):
You can WIN A CUTE QWERTY PHONE if you're a reader of Mommy Survival Guide, Shoppinay, Day Dreaming Mommy, Music Movies Stars Etc, Food Fashion Beauty Blog, and Mommy's Infodose. Details here: http://www.bloggityboop.info/2011/07/i-like-qwerty-giveaway.html
Here's how it should actually look like in FB:

To be able to tag the Facebook fan pages, you should be a real follower of my blogs – and that means, you should be a member of my Facebook fan pages (shower me with likes!)
If you're having difficulties tagging @Mommy's Infodose, here's what you should do…
STEP 2. Subscribe to BLOGGITYBOOP and MOMMYSINFODOSE.
Bloggityboop Subscription
Mommy's Infodose Subscription
*How to subscribe properly: (a) Enter your CORRECT email address in the boxes above and click "Subscribe"; (b) Enter the right Captcha and click "Complete Subscription Request"; and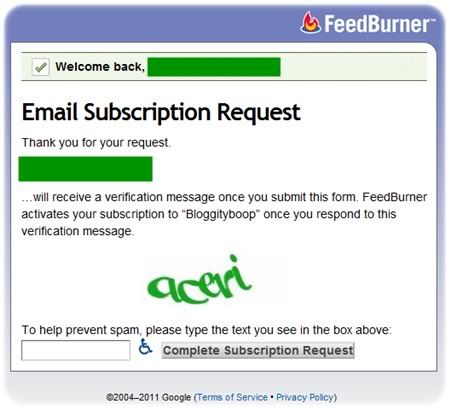 (c) Open your Email, Open the Verification Message from Feeburner, and Click the LINK provided in the message.
Once you have accomplished the steps mentioned above, you'll get THREE RAFFLE ENTRIES. Do not forget to FILL OUT THIS FORM SO YOUR ENTRIES WOULD BE VALID:
OPTIONAL TASKS for additional raffle entries
Note that you can only get additional entries from these optional tasks IF you are done with the REQUIRED STEPS mentioned above.
ADDITIONAL 1 ENTRY FOR EVERY BLOG YOU SUBSCRIBE TO:
Subscribe to FOOD, FASHION, AND BEAUTY BLOG, and MUSIC, MOVIES, STARS, ETC., and MOMMY SURVIVAL by entering your email address below and verifying your subscription via the message sent by Feedburner to you.
Food, Fashion, Beauty Blog Subscription
Music, Movies, Stars Subscription
Mommy Survival Subscription
ADDITIONAL 1 ENTRY: Check my post on Eco Trade and comment on IF you find my post interesting.
ADDITIONAL 1 ENTRY: Check out my post on the Korea Electronics Show and share it via FB IF you find my post interesting.
ADDITIONAL 5 ENTRIES FOR EVERY BLOG POST (Bloggers with multiple blogs can blog about the giveaway ONCE PER BLOG):
Blog about this giveaway and include the following hyperlinks.:
(a) A LINK to this post
(b) Homepage links of my blogs:
Mommy's Infodose, Food Fashion, and Beauty Blog, Music, Movies, Stars, A Bloggerette's Online Adventure, Day Dreaming Mommy, Shoppinay, Mommy Survival Guide
After you have done these optional tasks. Kindly fill out this form:
Anyone who loves my blogs – and has a valid Philippine address, a valid email address and a real facebook account can join and I will ship the prizes free of charge. Giveaway starts now (July 26, 11pm) and it ends on September 7, 2011,11:59PM (GMT+8). Winners will be chosen via a MANUAL RAFFLE DRAW (meaning I'll be writing your names on paper and Yana will draw the name of the lucky winners) The name of the winner of the QWERTY PHONE and winners of the other surprise prizes will be announced on September 9, 2011.
*This promotion is in no way sponsored, endorsed or administered by, or associated with Alcatel Philippines and Facebook*
The following two tabs change content below.
LN
Ellen is a blogger, a web content writer, a researcher, a stalker, an entrepreneur wanna-be, a resourceful moneymaker, a big fan of Supernatural TV shows, a household queen, and a mom of four.