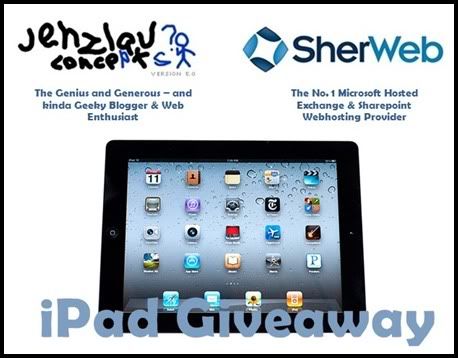 I have come across yet another iPad giveaway and despite my many failed attempts to take home an iPad, I'm joining again – and trying harder than ever. This time, the contest is sponsored by SherWeb, the No. 1 Microsoft Hosted Exchange & Sharepoint Webhosting Provider and one of the most renowned and respected worldwide hosted services leader in cloud industry. It is hosted by the Game and IQ-Freak – and Geeky but Gorgeous and Generous Web Enthusiast, Jehzeel Laurente. Without further adieu, here is a short presentation on my seven reasons why I should win an iPad.
No. 1: I have been wanting to own an iPad for SOOOOOO LONG!
And I am not exaggerating. I have always wanted to have an iPad. I cannot remember how much I have mentioned that in my blogs. I think I am even slightly obsessed with it so maybe I should win an iPad finally. Because of this 'slight' obsession, I have already joined tons of raffle giveaways and contests with an iPad as a prize but sad to say, I never won the gadget. Heck, I even haven't seen an actual iPad upclose. Anyway, you can view some of my best but still non-winning entries/efforts here: Project ALL Time: The iPop and Of Tips and Gift Cards . I have also tried to do more work and try to save money for it but I have been hesitating to buy one because times are hard these days and I have three little girls with plenty of needs whom I would otherwise spend for. Only by winning an iPad for free would I be able to get this gadget that I've wanted for more than a year now.
No. 2: It would be my ULTIMATE STRESS RELIEVER and keep me SANE

I'm a work at home mom with no household help. I get large doses of stress everyday – from my deadline-oriented work, my lovable but oh-so-naughty kids, and the many concerns and issues of managing a home. Most of my Me-Time is spent at home and I would have to admit that staying at home could be very boring at times. Having an iPad could make life at home more entertaining, more enjoyable. I could read more of the Coelho, Gaarder, and Koontz novels that I have been missing a lot. I could probably get the chance to watch a full movie straight because I could just bring the ipad with me as I cook, clean, and more. Having an iPad could greatly help me keep up with everything. It can help me organize and stay on schedule and it can be my all-time, anywhere, everywhere stress reliever. I should win an iPad because perhaps it would help keep me sane.
No. 3: It would bring more BONDING MOMENTS for me and hubby
Last Apr 23, hubby and me celebrated our 3rd anniversary of being together and we weren't even able to go out on a date (because I was making my entry (LOL) and besides, no one would watch the kids). In our three years of being together, we've already had plenty of happy and exciting – and also boring and saddening moments.  I hope to add more of those fun bonding moments together if we can have an iPad. Tech noobs like us would have plenty of fun exploring the iPad together. With it, we can have a 'movie date' or we could go sound tripping even as we lie on our bed. I'm sure we would both enjoy playing awesome racing games, puzzle games, and Angry Birds in an iPad. In addition to that, we can have more of those cheesy moments of looking at our pictures together, late at night, without having to sneak and sit in front of our desktop pc – and risk waking up our kids. I think I should win an iPad because that would not just make me happy, hubby would also be delighted with it.
No. 4: It would help me babysit my kids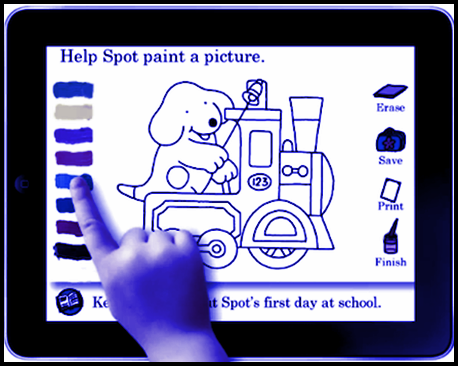 Baby sitting is a very hard job – especially if you're going to babysit three cute and cuddly but absolutely naughty and messy kids (they are actually entitled to be naughty and playful right). Anyway, if we have an iPad at home, the kids would really enjoy watching movies and playing games with it. It is after all, easier to use than a desktop pc. Also, with an iPad, Preparing them for kindergarten would also be easier because I can use the iPad as a flashcard, a drawing/writing pad, and even as a small black board as I teach the alphabet, numbers, colors, shapes, and those basic stuff to the kids. I could also find thousands of educational apps from the App Store. And hey, I could teach my kids how to use an iPad… Imagine toddlers using an iPad… cool right?! Teaching them how to use an iPad is actually essential because in five to ten years from now, perhaps most gadgets would be patterned from touchscreen tablets like this. Plus, I should win an iPad because with it, me and my daughters will certainly have more fun together.
No. 5: It would help me COLLECT and CONNECT with friends, clients, and present and potential employers.
With an iPad, I'll be able to maximize online opportunities offered by using social networking sites and online messaging systems. If I ever have an iPad, perhaps I'll have the chance to chat more with my long lost friends and newfound blogger friends too. You see, it is hard to chat using a desktop pc while babysitting three kids who are excited to touch the keyboard. With an iPad, I could possibly make full use of my FB, Twitter, and Plurk account even as I take care of the kids. I might even be motivated to save my Friendster account. I could also use these social networking sites to promote the many ways I earn online – through my blogs (Yes, it's also 7) and my online clothing shop (I'm selling affordable, thrifted and vintage clothes). I also have an account on oDesk for freelancing purposes and this is where I regularly get funds for our household expenses.
No. 6: It would help me RULE THE WORLD – OF BLOGGING

Well, not actually rule, but perhaps I'll be a better blogger. With the many amazing abilities of an iPad, I could better educate myself with everything that bloggers and webmasters should know. Right now, I have seven blogs and I plan on having two more niche blogs soon and maybe I could use SherWeb's hosting services. If I ever get to have an iPad, I could use it to learn more about blogging. I can read more ebooks and browse more sites on programming, CSS, and Javascript (which I am totally clueless about). I would be able to improve on my graphic and website design skills and get a better design for my blogs (I design my own blogs just by tweaking free WP layouts). Perhaps I should win an iPad because with it, I could learn how to make better videos and create a video blog (I would want to create a vlog- travel blog someday). I can also learn more about SEO, SEM, and perhaps I could also try affiliate marketing someday.
No. 7: Having an iPad would simply MAKE MY LIFE AMAZING.
My life with an iPad starts with an alarm tone so I can get up ahead of my kids and prop myself up for the rest of the day. When I have to cook, I can simply browse for healthy recipes online. When I have to shop, I can simply use a list/note pad app to generate a grocery list. When I think that boredom is about to hit me, I can watch Despicable Me finally or catch up with GLEE episodes even as I am still in the kitchen, preparing our meal. When it's about time to take a power nap, I turn on the music to put me to sleep. To get rid of my unwanted pounds, I browse for workout or yoga apps. When I feel lonely, I can simply log on to FB and have a chat with my mommy friends or my brothers and sisters. When I attend a blog event, I can blog right then and there! These are just a few of the perks of having an iPad and I want to enjoy them.
That's it and this has been a long read and I hope you've enjoyed it… and if you've got a minute or two to spare, do checkout the presentation below which explains the story behind the songs I used for the video above.
*** SherWeb is a leading provider of Web hosting, hosted exchange and hosted BlackBerry services to companies and organizations around the world. The company holds the 26th rank in the prestigious 2010 Deloitte Technology Fast 50. Since 1998, they have continuously provided their customers with the industry's finest solutions.